Lujo bean bags can be purchased with filling (arrives separately to covers) or unfilled (covers only).
You have the option to add bean bag filling to your order, or source yourself at your preferred retailer (see suggested retailers below)
If you opt to add filling to your order, we will source on behalf at the required volumes and aim to have beans arrive around the same time as your bean bag covers.
NOTE: Depending on your location and availability of EPS filling at the time, we will source from a number of suppliers such as Kmart, Big W, Spotlight. We offer this as an additional service for our customers to simplify the process for them. We charge our cost price plus an average delivery fee Australia-wide to ensure we cover our costs. If you prefer you can source yourself and save some money by collecting at your local retailer, hence avoiding the average delivery charge we pass on in the cost of our bean filling.
SUGGESTED RETAILERS
Polystryene bean bag filling is available at numerous outlets including, but not limited to, the retailers below.
Note: Filling can be purchased online for home delivery, see links below.
KMART - www.kmart.com.au
BIG W - www.bigw.com.au
SPOTLIGHT
TARGET
ENVEE® BEANS - AN ENVIRONMENTALLY-FRIENDLY FILL OPTION
Envee® Beans are a 100% plant-based bean bag filling option that is both durable and environmentally friendly.
They are made in Melbourne from Ingeo, which is 100% plant-based and contains no nasty additives. Manufacturing Ingeo also produces approx. 80% fewer greenhouse gases and uses approx. 52% less non-renewable energy than traditional polymers like polystyrene.
Envee® beans are bigger than traditional EPS beans, which makes them easier to pour in and to clean up after a spill.
They are also firmer than traditional EPS beans, creating a uniquely supportive beanbag that is easy to get in and out of.
Envee® packaging is paper-based, made from renewable resources and plastic free.
We can source this fill option by speical request if interested.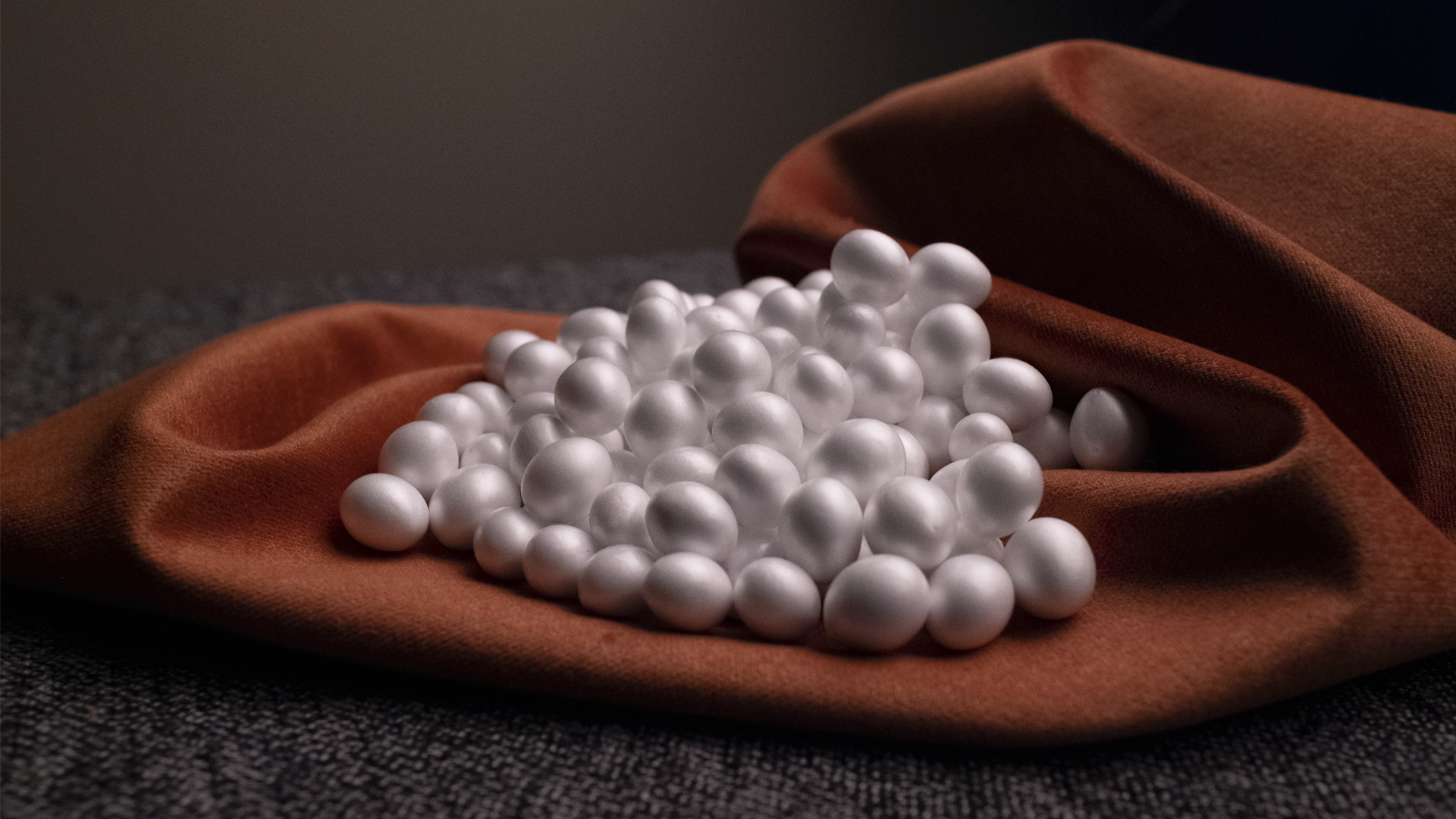 FILLING VOLUMES
Filling volumes can vary by personal preference. Some like them firmer and more structured, some prefer them softer so they can sink right in.
Note: Beans will compress slightly over time, making the bean bags softer and more comfortable with use. We recommend topping them up as required to get the bean bag to a level of comfort you are happy with. This will also help maintain the shape and structure of the product.
| Product | Litres |
| --- | --- |
| Bean Bag Chair - Tulum Collection | 350-375 |
| Bean Bag Lounger - Tulum Collection | 475-500 |
| Bean Bag Pouf - Tulum Collection | 175-200 |
| Bean Bag Ottoman - Tulum Collection | 275-300 |
| 'XL' Bean Bag - Kyoto Collection | 550-600 |
| 'Medio' Bean Bag - Kyoto Collection | 400-425 |
| 'Mini' Bean Bag - Kyoto Collection | 225-250 |
| Bean Bag Footstool - Kyoto Collection | 100-125 |
| Bean Bag Ottoman- Kyoto Collection | 375-400 |
FILLING PROCESS
All Lujo bean bags come with detailed filling instructions.
It is a simple process, requiring two people. Basically, one person holds the liner open, the other person slowly pours in the beans.
After the work is done you can sit back, sink in…and relax
SAFETY
WARNING: Polystyrene Beans are dangerous if swallowed or inhaled by children.
For the safety of young children, we use safety zips with a removable puller. If you have young children we recommend removing the puller on the liner once filed, so children cannot access the polystyrene beans.
Should you need to open the liner in future, simply attach the puller or slide a paper clip through the hole in the zip slider and use it to open and close zipper.
If you have questions about product safety please don't hesitate to contact us.
PURCHASING FILLED – CUSTOM ORDERS
Due to the size/volume of filled bean bags, it is far more cost effective to airfreight unfilled bean bag covers internationally, with most customer's choosing to fill their bean bags with locally purchased polystyrene filling to save substantially on shipping costs.
We do, on occasion, have customers that prefer to pay for sea-freight of filled bean bags. This comes at an additional cost and lead time that is usually only viable for larger orders of 10+ items
If you would like us to quote on this option, please contact us with your order requirements and we will provide an indicative quote